BUSINESS ETIQUETTE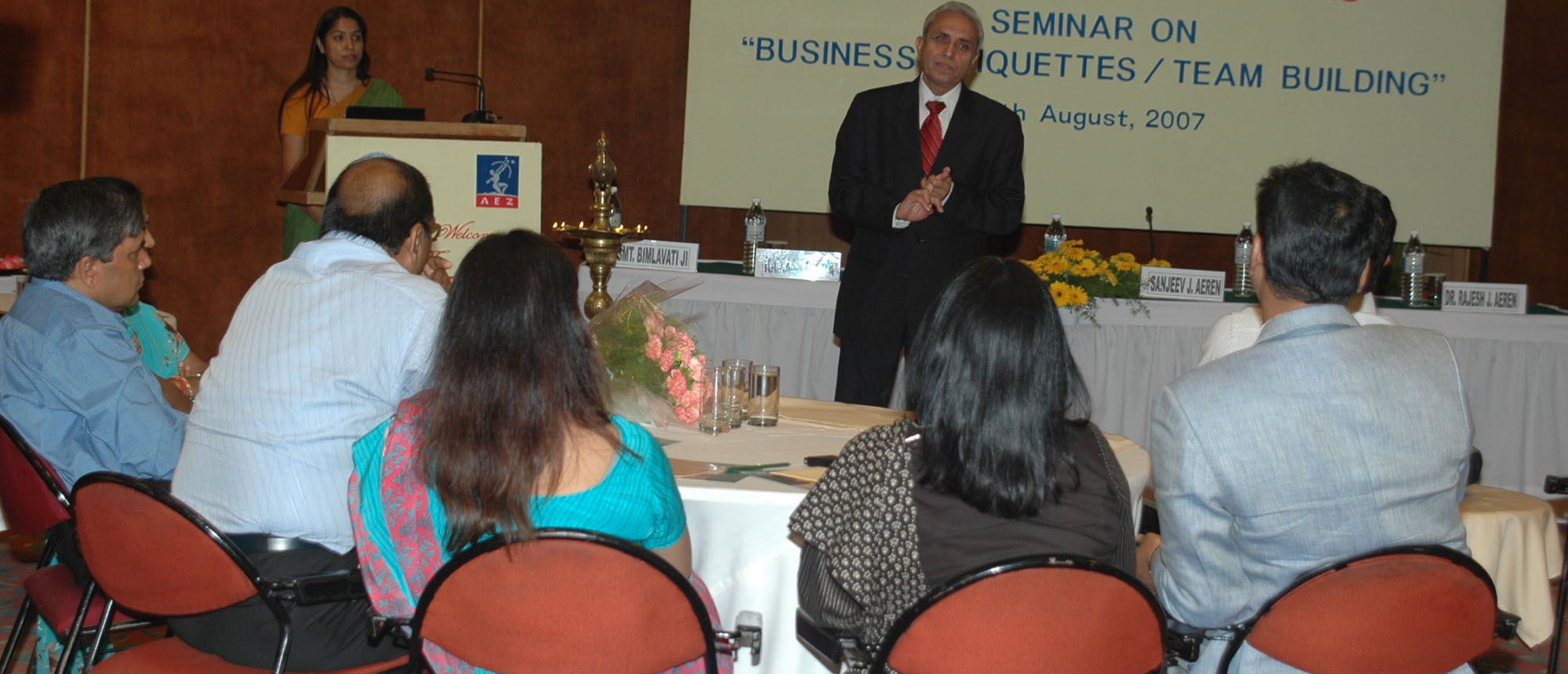 Duration : One Day
Ever wondered why people with fewer academic qualifications seem to achieve better results than you ? It is because personal success in the corporate world depends on more than just paper qualifications. Professional competence extends beyond academic knowledge and includes knowing exactly how to behave in various business and social situations. This style of behaviour must be taught and not hoped for.
This one day training includes tips on developing professional business behaviour, creating the right impression, conversational skills, corporate dressing, Do's and Don'ts in business entertaining etc. The chart below gives a glimpse of the course:
At a glance
Participants learn
1. The importance of Business Etiquette
What is etiquette?
Why are good manners important in business?
2. The Basics
Values and attitudes
Basic principles of professional business behaviour
3. Etiquette in the office
Relationships with superiors, colleagues, subordinates,
Making appointments, receiving guests
The importance and use of business cards
4. Etiquette in Business Communication
Manners of participants at meetings, chairing and ending the meeting, using positive words
Telephone courtesies
Using customers' names and titles
5. Social graces in Business
How to introduce and be introduced
The art of polite conversation
Business entertaining, duties of a host/guest
6. Table Manners
Western table manners
Table settings, use of cutlery
Mr. B. L. Vohra has conducted a workshop on professional business behavior in New Delhi, Nagpur and so many places in India.
You may book the course by connecting Mr. B. L. Vohra through phone, email, facebook, Google+, linkedin and Twitter for your self-motivation as he has conducted workshop for this course in New Delhi, Gurgaon, Noida, Mumbai, Mussoorie, Hyderabad, Baroda, Ambernath, Mysore, Bharuch, Nira, Manipur, Agartala, Gajraula, Nagpur, Chandigarh, Gandhar, Udaipur, Dahej, Tekanpur, Kapasan, Surat, Roorkee etc.